Heirloom Potager Blooms with Rise in Farm-to-Table
Heirloom Potager Blooms with Rise in Farm-to-Table
Many thanks to Kari Hamanaka from the Orange County Business Journal for including HP in the small business series.
"It's key Irene keeps her showcase garden outside her 1926 French Tudor style home in Santa Ana's Floral Park neighborhood looking good. It was her calling card when she started the business last June, and remains one of her best forms of marketing as she seeks to build her upstart company."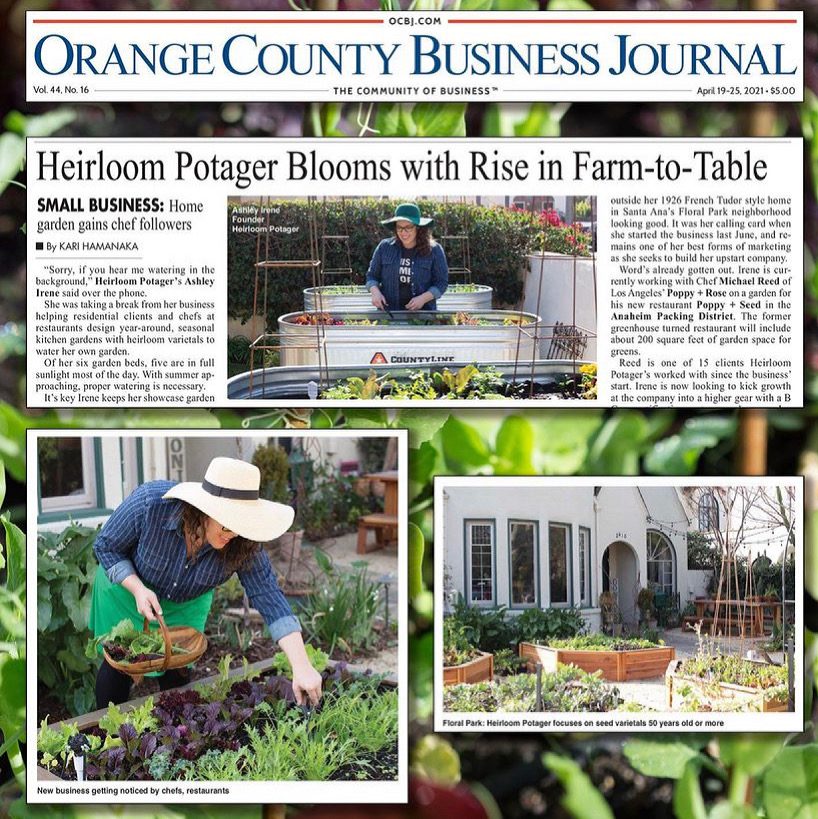 ARTICLE EXCERPT
"Irene had already been helping neighbors and friends with their own edible gardens, and they encouraged her to turn her talent into a business. Heirloom Potager's focus and niche has been encouraging clients to grow heirloom varietals, or seeds over 50 years old.
'I find [heirlooms] special because they are a connection to our past and our present. They are an opportunity for us to reevaluate food and flavors. In the past 60 years we've lost a lot of that. For us, food is whatever's available at the grocery store. We lost the idea of seasonality. This is a way for me to help encourage people to grow seasonally.'"
THE GARDEN SHOP IS NOW OPEN
Quality garden products delivered to your home